COVID-19 UPDATE
Reminder of upcoming restriction changes. Following the QLD State Government announcement, from 17th December our venue will be classified as essential services and be operating as per normal. What does this mean? Access to the venue is permitted for everyone, regardless of vaccination status. Check-in via the Check In QLD app is required upon entry. This is subject to change in line with revisions from the state government. Our venue will continue to follow a COVID Safety plan and appropriate risk assessments and cleaning regimes to ensure the health and safety of you, our members and guests. Read the QLD Government Update for further assistance. Thank you for your patience as we work to stop the spread of COVID-19 and keep our community safe. Remember, please be kind to our staff as they work through these restrictions.
Welcome to Cleveland Aquatic Centre
Cleveland Aquatic Centre offers you an excellent location for all your swimming needs in the central Redlands area, servicing the Cleveland, Alexandra Hills, Capalaba, Sheldon, Thornlands and surrounding suburbs.

The facility is staffed by our friendly team of aquatic experts and is proudly managed by Belgravia Leisure on behalf of Redland City Council.

Our facilities include outdoor heated 50m and 25m lap swimming pools. An indoor heated learn to swim pool and outdoor leisure pool with water features.

We also offer you a range of different services including, aqua aerobics, swim squad, aquatic fun days, birthday parties and of course children and adults swimming lessons. With something for everyone to enjoy, we look forward to providing you with our best health and leisure services.

Visit us and experience advanced aquatic and leisure programs and facilities that cater for the inclusion of people of all ages and abilities.

We look forward to providing you with the best health and leisure experiences possible!
SUMMER OPENING HOURS
MON - FRI 5:00am – 8:00pm
SAT 6:00am – 5:00pm
SUN 9:00am – 4:00pm
PH 10am - 4:00 pm
ADVENTURE POOL
During School Holidays
MON - FRI 9:00am – 5:30pm
SAT 8:00am – 4:30pm
SUN 9:00am – 3:30pm
During School Terms
MON - FRI 9:00am – 12:00pm
3:30 pm - 5:30 pm
SAT 8:00am – 4:30pm
SUN 9:00am – 3:30pm
PH 10am - 3:30 pm
Pool-closing times may vary depending on Sunlight availability
Please keep up to date with us on our Facebook page and via our member emails.

Discover Cleveland Aquatic Centre
Click below to learn more about our facilities and see what classes we have at Cleveland Aquatic Centre
Say YES to Summer Treats
Cool down this Summer by trying these refreshing Frozen Berry Yoghurt Swirls! Quick and easy to make with only 4 ingredients - they are sure to be a hit with the whole family!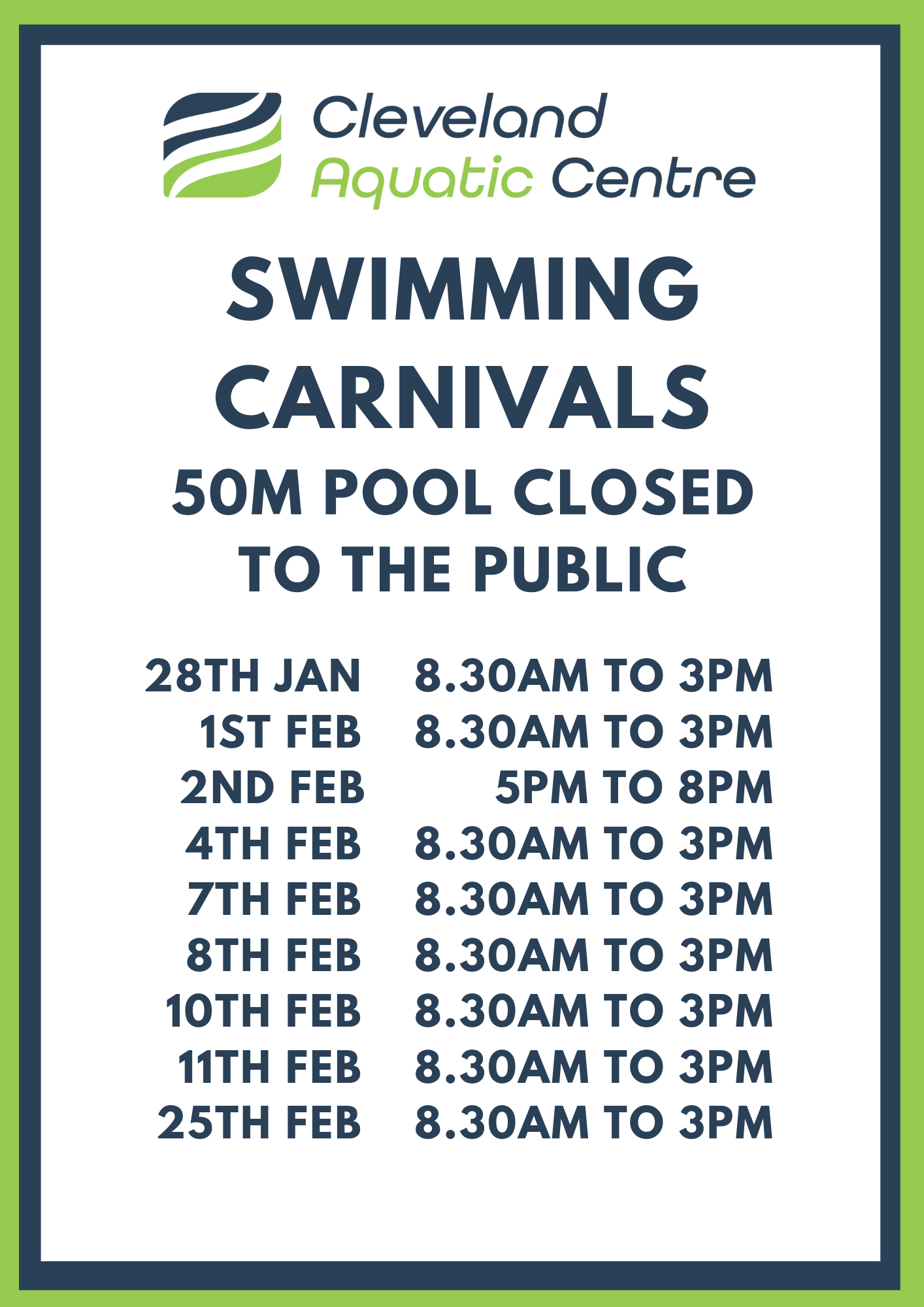 SCHOOL CARNIVAL SEASON, 50M POOL CLOSURES
The School carnivals season at the Cleveland Aquatic Centre has started!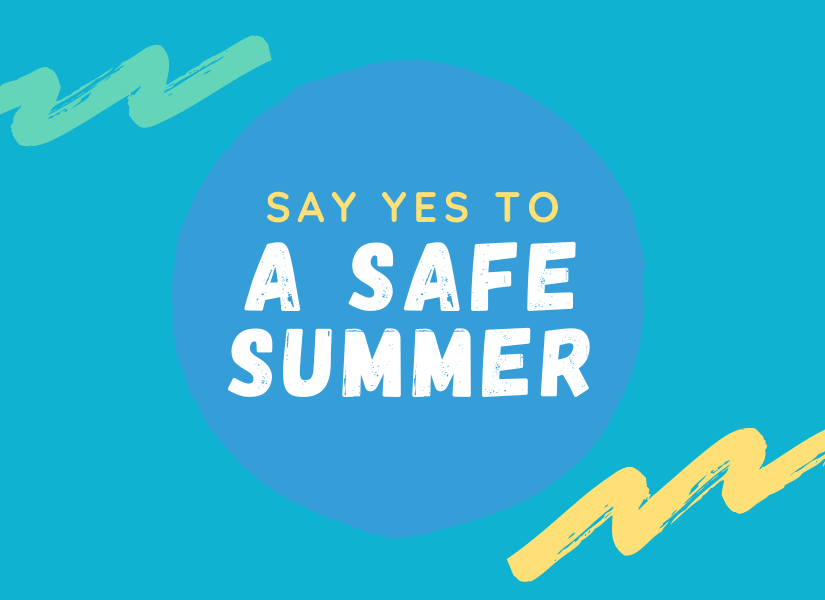 Say YES to a Safe Summer
Summer is here, and it's a great time to remind each other to be safe when in the sun or by the water!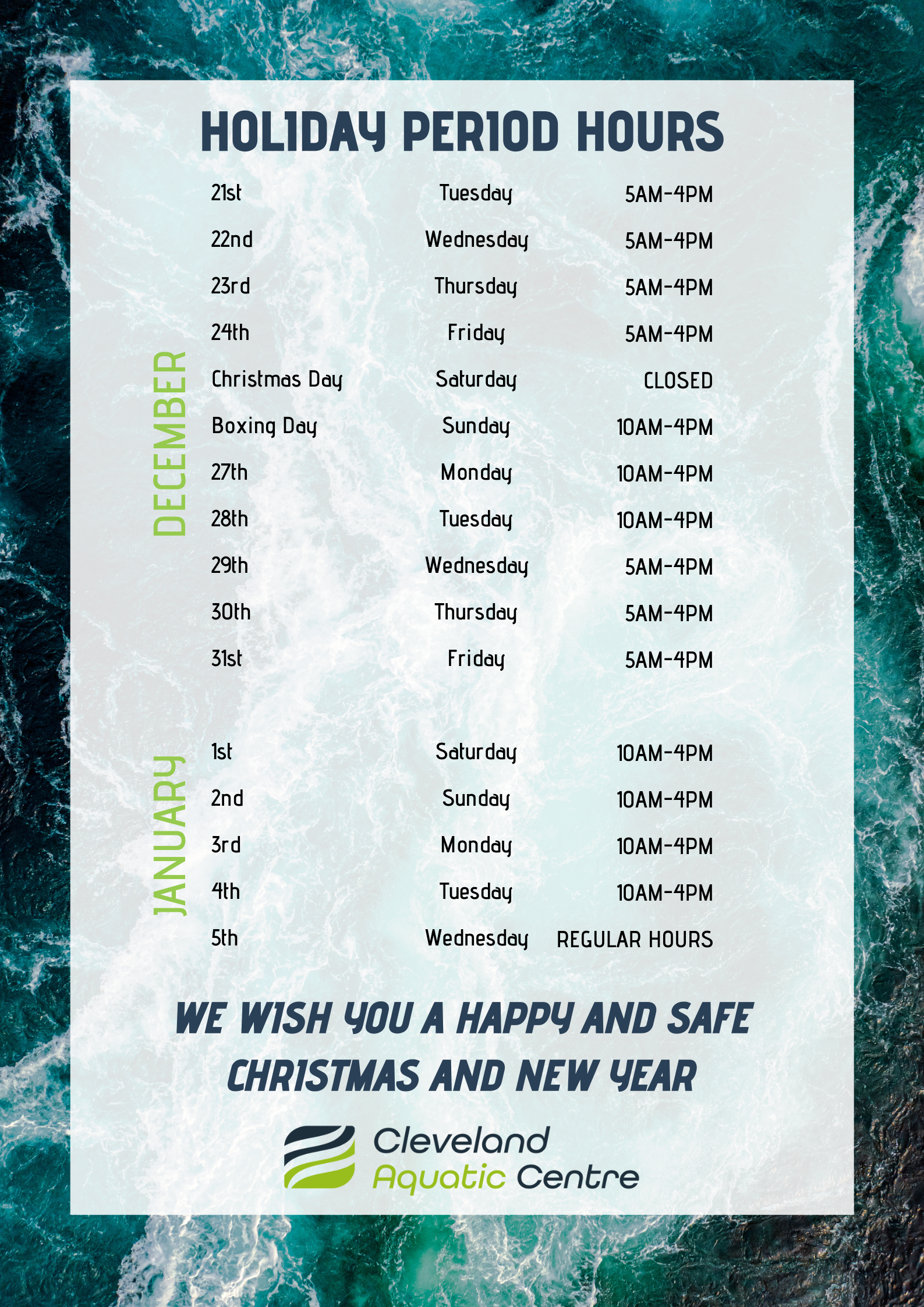 Holiday period opening hours at Cleveland Aquatic Centre.
Holiday period opening hours at Cleveland Aquatic Centre.

We wish you a happy, joyful and peaceful Christmas and New Year!
Aquatic Classes
Cleveland Aquatic Centre offers different aquatic classes to help you increase your swimming skills and overall health.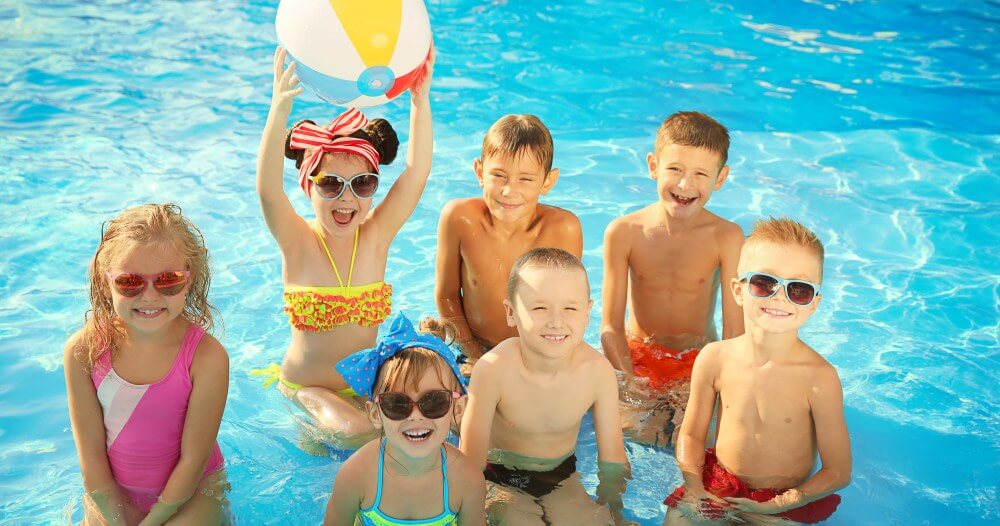 BIRTHDAY PARTIES
Everyone has one, and we'd love to help you celebrate it! Whether it's for the young or the young-at-heart, we can help you celebrate your next birthday party. Click below to receive more information and a link to make a booking request.